Thanks to Doc & Jammin John, we got a play by play of tonight's show...
Love that!
Posted: Mon Apr 11, 2005 4:19 pm    Post subject: ratdog 4/11/05 setlist(keep checking just gonna edit)
------------------------------------------------------------------------
1 set
here comes sunshine>
music never stopped>
queen jane
walking blues
big boss man
tennessee jed
its all over now>
she says>
music never stopped>
eyes of the world
2 set
desolation row (bobby mark jay robin)acoustic
corrina (mark electric)
golden road (electric)
estimated prophet>
wheel>
jam (w/o bobby)>
knokin on heavens door
sugar magnolia>
sushine daydream
encore
touch of gray
__
And then Bonus! Chez posted his impressions (from Deadnet)
------------------------------------------------------------------------
Chez - 09:52pm Apr 11, 2005 PDT (#15451 of 15451)
Let Mark Sing!
Really strong, rockin' show tonight. They came out ready to rock from the getgo. No fucking around with an opening jam. Just straight into HC Sunshine. Very nicely played and either I'm adjusting to Bobby singing it or he's getting better at it or both, because his vocals on it worked for me tonight for the first time. Nicely jammed out at the end leading into an above average MNS. Robin really asserted himself during the MNS, a trend that would last all night. He was very prominent in the mix, especially from my vantage point in the front row on his and Mark's side of the stage. (I know, I know....it was VERY weird!)
Queen Jane was Queen Jane. Well played, but nothing special.
Walkin' Blues was FABULOUS and I'm not a fan of the song. They ripped it from start to finish. Bobby struck a pose during it (unfortunately I had just put down my camera) with one hand behind his head and the other on his hip with his butt thrust to one side. The Doggiegirlscouts would have gone nuts.
Full stop into the song of the first set - Big Boss Man. Just knocked outta the park. First Kenny taking control, then MK absolutely TEARING it to pieces. Jeff on Hammond the entire time (good bit of Hammond tonight, btw, and it was mixed very well...I really think it's a midwest phenomenon, JS).
Tenn Jed was good, but again, nothing special. Just a solid version and a rowdy singalong.
All Over Now - High energy dancefest. Very well played.
She Says - I could hear it every night, especially when played like this. They nailed it. Liberty teases at the end, then Jeff played a few measures of Eyes before they went back into MNS for the "Never stopped, never stopped..." part before dropping into a MAMMOTH "Eyes" to close the set. MK's solo was good, but a little short. Kenny made up for it, though. He just wouldn't quit when it was his turn and kept taking it higher and higher. Then Robin delivered a huge bass solo than took them into Stronger Than Dirt, then back around into the Eyes Outtro to close things out.
Very very nice set. Everything was at worst very nicely played and the entire band was very high energy and having a blast. Lots and lots of smiles onstage all night.
Chez - 10:03pm Apr 11, 2005 PDT (#15452 of 15453)
Let Mark Sing!
Set Two
Very short intro to Desolation. For a second, I thought it was Bobby McGee, but I was PSYCHED when Bobby started singing Desolation. Couple of glances at the teleprompter during it, but with that many words, who can fault him. I'm glad it's up there. Very well read version of one of my favorite Dylan tunes.
Corrina - SMOKED. 'Nuff said. Robin on his upright creating some huge booming bass notes.
Golden Road - Needs some work. Good song for them, especially the chances for Jeff/Kenny interplay, but they've got some kinks to iron out. Good choice for tonight in that slot as it fit in with the high energy performance. Hopefully they continue to polish it as it could be a bigtime winner for them.
Estimated - See Corrina but w/o Robin on upright. Classic "HAAAAAAAAAAs" to end it. Robin EXTREMELY prominent during this one.
Wheel - A little uneven, but the reggaeish breakdown made it into a winner in my book.
Stuff Segment - Spooky and weird. Jeff on hammond for most of it with Kenny laying down some really bizarre sounds from the touchpad and Robin alternating from thundering over top of things to wrenching some weird dissonant almost feedbacky (can't describe it too well) sounds from his bass. I really enjoyed it. Not your everyday jazzy stuff segment; more of an evil Space type of feel to it which followed up Estimated nicely (even though Wheel came between them)
Knockin' - Nice to hear Bobby on electric on it as a change of pace. I was struck by how much stronger his voice sounds than it did in Phoenix in Feb.
Sugar Mag->SSDD - Just flat out RIPPED. Windmills, leg kicks, HAAAAAAAAAAAAAAAAAAAAAAs...Bobby being Bobby. MK seized it and faced off with him for a while and they just fed off each other taking it higher and higher and higher. We're talking fever pitch closer to a rockin' night.
Touch - I'm so glad they kept rocking for the encore. I was expecting Ripple, which wouldn't have been the right way to end a show like tonight's.
in the email bag-
Hey Friends,
Spring has sprung, and the FOBs are doing what we can to further elevate the seasonal spirits. Here's the dope on two upcoming shows that may enhance your mod, should you choose to partake. This Sunday, we'll be playing at 12 Galaxies, at a benefit for the nonviolent protestors who had pepper spray applied to -- not sprayed in – their eyes by what one might call Improper Authorities. David Nelson will be joining us, and we understand Melvin Seals will be doing a set as well. Should be big fun. And then on Wednesday, April 20 (that's 4/20, for those of you who are numerically inclined), we'll be kicking off the season of free noontime concerts in Union Square and Yerba Buena Gardens. This one will be in Union Square, and we expect this hump day picnic to be the high point of the week for those who stop by.
The nitty gritty:
********************* Sunday, April 17, 2005 *********************
A Benefit For The Pepperspray 8
Twelve Galaxies Nightclub,
2565 Mission St.,
San Francisco, CA
Doors at 6 p.m., show at 7 p.m., FOBS TBD
With the FOBS, David Nelson, Melvin seals, Wavy Gravy, Chet Helms
Tickets are $10 in advance or at the door, with a sliding scale to $50.
Available at www.virtuous.com and at the door on show night.
******************* Wednesday, April 20, 2005 *******************
Free Noontime Concert
Union Square (between Geary and Post, and Stockton and Powell Sts.)
San Francisco, CA
One more good reason to visit http://www.fob.com :
**** Free Music ****
There is a new Pay It Forward release in the works. We've heard the word "Slim's" in furtive whispers around the rehearsal studio. What could it mean? To find out, all you need to do is register: read on!
If you aren't familiar with it, Pay It Forward is a program under which we distribute high quality recordings of live shows to fans who promise to make copies and pass them on to friends. The deal is simple. You sign up in the Tapers' Section of our website (http://www.fob.com) and we send you free CDs. All we ask is that you make copies and give them to three friends or more. More is definitely better. The whole idea is to spread the music far and wide.
*******************************************************************
***** Roger Wrote A Book!!!! *****
That's right. Our lead singer and "conductor" wrote a book. It's called The New Normal and was published in November by the Portfolio imprint of Penguin Books.
The New Normal is a roadmap for making the most of family, career, and your personal finances in a world turned upside down by technology and globalization, but where individuals have new and exciting opportunities.
The book is available at bookstores everywhere and through Amazon.com.
Roger has also started a blog. The book was the excuse, but the blog covers all sorts of stuff. It is available at http://www.thenewnormal.com. Check it out.
*******************************************************************
The Flying Other Bros are:
Roger McNamee, rhythm guitar
Ann McNamee, percussion
Jim Sanchez, drums
Pete Sears, keyboards
Barry Sless, lead and pedal steel guitar
Bert Keely, guitar and trumpet
TBone Tony Bove, harmonica
Bill Bennett, bass
........................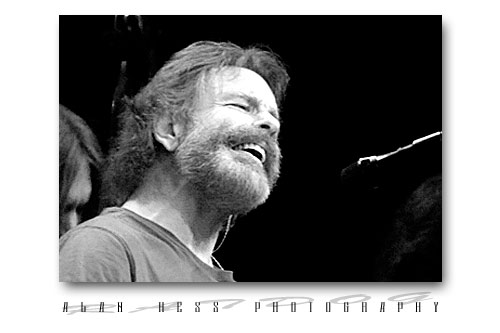 ....
Review-sorta-from a dot org-er
       RatDog.Org Forum Index -> Message Board
View previous topic :: View next topic  
Author Message
MVotter
Board Regular
Joined: 21 Feb 2005
Posts: 44
Location: Upstate New York
Posted: Mon Apr 11, 2005 9:30 am    Post subject: Turning Stoned was a Mission In My Brain...
------------------------------------------------------------------------
It was a two-night stand…Turning Stone house-band. We don't often get the chance in smaller venue cities to experience a multi-night booking. But, there is something very special about it. Everybody gets to settle-in, get reaaaaalllly comfortable and boogie, and boogie and goddamn boogie.
"How many of you people were here last night?" the local DJ asked the Friday night TS crowd. His question was answered with an affirmative roar from the audience. "Alright! How many of you were here two years ago?"…the response was a little softer…"How many of you were at the Utica Auditorium show in 1973?"… a few people clapped…"ahhh, if you're clappin' I KNOW you weren't there…because if you were there, man, you'd never be able to remember it!"
The beauty of the back-to-back bookings harkens back to the legends of the Warfield, the Filmore(s), Dozin' at the Knick, Boston Garden, Madison Square Garden, etc. It adds an extra feeling of intimacy…when the "family" can take root for a couple of nights. It showed in the band. It showed in the crowd.
I've never seen so many genuinely happy peeps in a 48 hour period in my life. We danced every tune like it was gonna' be "last dance" on Thursday…and Friday, as if to acknowledge a crowd which had bopped 'til they dropped the night before, the Doggies played a more laid-back groove…still shakin' bones, but an "Eased-up Odessa" tempo adjustment had been made…which proves-out; Bob's a friggin' master at the craft.
Verona, NY's version of "Nightfall of Diamonds" became two nights of precious "Turning Stones".
PEACE, OTT