Thought Friday was never gonna get here!
***Very cool- a story on Dead archivist, David Lemieux!!
http://www.marinij.com/Stories/0,1413,234~24409~2516146,00.html
The life of the Dead's official tape archivist
By Paul Liberatore, IJ senior feature writer
DAVID LEMIEUX HAS every Deadhead's dream job.
The 34-year-old San Anselmo resident listens to Grateful Dead music all day, and gets paid for it.
Lemieux is the archivist and curator of the Grateful Dead's priceless "vault," a trove that contains the long, strange musical legacy of one of the most important bands in American rock.
His domain is an 800-square-foot, temperature and moisture controlled, fire-resistant storeroom in a nondescript light industrial section of Novato.
Behind its unmarked gray door are 13,000 audio and video tapes dating to the Dead's beginnings as one of the defining bands of the psychedelic '60s.
For Deadheads, the vault is the mother lode.
"This is the gold," Lemieux says, admiring a wall of meticulously-marked and catalogued boxes of two-track audio tapes, recordings of just about every Grateful Dead concert from 1966 to 1978, the band's heyday. "I could take anything off this wall behind me and it would be a fantastic show."
Some shows are more fantastic than others, and the dark-haired, boyish Lemieux knows where to find the nuggets.
He points to a July 1970 tape of a concert in a seedy motel ballroom in San Rafael, a night when Janis Joplin, three months before her fatal drug overdose, sat in with the Dead, singing "Lovelight" with Ron "Pigpen" McKernan, a founding band member who died in 1973.
But his favorite period in the Dead's long continuum is a two-month stretch from October to December of 1973 when, in Lemieux's educated opinion, the band was at its creative zenith, both as a tight rock unit and as an adventurous, improvisational jazz fusion group.
"Stunning material," he exults. "I love it. I can't get enough of it. It's awesome."
This has been a particularly satisfying time for Lemieux, whose responsibilities go far beyond his job description as an archivist into the realm of music and video production.
In recent weeks, he's seen a couple of major projects come to fruition. He spent much of the past five years co-producing (with the band's sound engineer Jeffrey Norman) a companion disc for the newly-released DVD of "The Grateful Dead Movie," Jerry Garcia's 1974 documentary.
At the same time, he co-produced "Beyond Description," an epic 12-CD boxed set on Rhino Records with 15 hours of music from the Dead's studio albums from 1973-1989.
"He does it all," says Dennis McNally, the Grateful Dead's longtime publicist and historian. "He's quite the addition. He's helped us tremendously."
Lemieux is a perfect fit for his one-of-a-kind position. He grew up in Ottawa, Ontario, and dropped out of high school to join the tribe of young Deadheads who followed the band on tour, trailing them all the way to Europe in 1990. Along the way, he became a "taper," recording hundreds of concerts.
"When I was 14, in 1984, the big music then was Michael Jackson and Duran Duran," he recalls. "Not to dump on those guys, but if you didn't like them there really wasn't much else. With me and my friends, the alternative was looking back, at Jimi Hendrix and Pink Floyd and Led Zeppelin and then, bam, the Grateful Dead. As soon as it became the Grateful Dead, everything else fell aside and it all became the Grateful Dead."
In 1993, he decided to stop being, in his words, "a goof off," and went back to school under a "mature student" program in Canada, which allowed him to skip the rest of high school and go straight to college, earning a bachelor's degree in Canadian economic history, a bachelor's of fine arts in film studies and a master's degree in film archiving.
In 1995, the year that Garcia died in a Marin drug treatment facility, Lemieux was living in Montreal, working as a film archivist, thinking that his Deadhead days were behind him, even though the surviving members kept on truckin' as the Other Ones band, and then more recently as the Dead.
"At 24 years old, when Garcia died, it was a closing of the biggest chapter in my life," he says.
While working on his master's degree, he wrote to the Dead's tape archivist, Dick Latvala, after whom the "Dick's Picks" series of live concert CDs is named, to inquire about how the band preserves its film and video library.
"Dick had my dream job, obviously," he says. "Any Deadhead, when you see the title 'tape archivist,' you think, 'What a great job.' You think in essence this guy's job is listening to Dead tapes."
One thing led to another, and Lemieux was hired on a three-month contract to catalog the band's video collection of live concerts. Then he was given the task of cataloging outtakes for "The Grateful Dead Movie."
At that time, Latvala fell ill, went into a coma and died a week later. Lemieux, told by a Dead executive that "this is rock 'n' roll and the show must go on," was hired as his successor. In the fall of 1999, the dream job was his.
Over the past five years, he's been instrumental in the production of almost 20 "Dick's Picks" CDs, a couple of boxed set collections, a half dozen DVD releases and numerous other Grateful Dead products.
"You'd think that the novelty might wear off, but it really hasn't, because every week is something different," he says "It's been so much fun."
With the 40th anniversary of the Grateful Dead coming up next year, Lemieux is already planning CDs and DVDs to celebrate the milestone.
"We're about to jump into some new projects," he says, then looks around at the floor-to-ceiling shelves of tapes and videos, smiles and says, "We've got some good stuff."
liberatore@marinij.com
........................................
I love Fridays...
3-D Bobby & Jerry pictures!
http://www.well.com/~fjf/weir3d.jpg&imgrefurl=http://www.well.com/~fjf/3ddead.html&h=520&w=639&sz=66&tbnid=fGz8vfTIyjYJ:&tbnh=109&tbnw=133&start=1&prev=/images%3Fq%3Dweir3d.jpg%26hl%3Den%26lr%3D%26ie%3DUTF-8%26sa%3DG
Can't get enough of those Woodstock stories?
http://www.wtv-zone.com/moe/moesboomerabilia/page18.html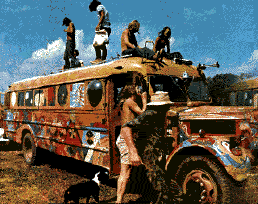 A few years ago, Tampax had TV commercial which consisted of Woodstock festival images-crowds of young people, Hippy girls frolicking in the rain & mud..dancing to music..daisies, rainbows and assorted symbolic images...no narration just music as audio..at the end of the commercial the words that went something like this came on the screen: TAMPAX was there"..Really!
http://www.findarticles.com/p/articles/mi_m0DUO/is_10_40/ai_54258975
Some of today's pix were plucked from :http://www.themusicarchive.com/garcia/deadphoto.htm
like this goody-
From today's paper!
'The Grateful Dead Movie'
Concert film. Starring the Grateful Dead; Editorial Director: Jerry Garcia. 132 minutes. Not rated. At the Roxie.
Jerry Garcia spent two years obsessing over the hundreds of hours of footage shot over the band's 1974 five-night "farewell" engagement at Winterland. Well known as the definitive Dead concert film among the band's many attempts, "The Grateful Dead Movie" clearly presents Garcia's viewpoint of the proceedings.
As a filmmaker, Garcia spends as much time taking the camera into the crowd, as he does watching the band play. When he does turn his attention stageside, he is likely to dig into close-point focus on the actual performance of the music, following his fingers skipping over the fret board during a solo or bassist Phil Lesh's nimble plucking. It's as close to an autobiography as Garcia ever wrote.
Even for Deadheads who have watched the movie more times than was probably healthy, the new high-definition video digital transfer will still yield revelations. Crisp, rich colors bring back those nights at Winterland with the clarity of a glossy post card. As a preview to this new home video version, due to be released on Monterey Video later this month, the Roxie Theater has brought in special projection equipment for a brief theatrical run sure to have folks dancing in the aisles.
After the appropriately psychedelic animated opening, the film lands smack in the middle of a roaring Winterland concert, already in progress. What follows is as much a record of the Grateful Dead concert experience, as the band's actual performance. The film intertwines the band playing with backstage tomfoolery, audience chicanery, stage door negotiations and the scene on the street outside.
The Dead, impossibly young, unbelievably skinny, perform a baker's dozen of the band's classics, nine years after the band first rolled into the Fillmore Auditorium, arguably at the peak of the group's storied career. When the band returned from the year and a half hiatus these performances occasioned, the golden era of the Grateful Dead was over. But "The Grateful Dead Movie" remains.
-- Advisory: This film contains scenes of drug use.
-- Joel Selvin
............
Extras make 'Grateful Dead Movie' come alive on DVD
November 5, 2004
By BARRY A. JECKELL
Advertisement
NEW YORK -- How does one improve upon what is already considered a landmark concert film? In the case of "The Grateful Dead Movie," it's by restoring the negative and improving the sound for its DVD release, and adding a second disc of with 95 minutes of concert footage that didn't make the cut for the film's 1977 release.
Due Nov. 9 via Monterey Video, "The Grateful Dead Movie" captures the band's legendary mid-October 1974 "farewell" concerts at San Francisco's Winterland. The project was taken up by frontman Jerry Garcia as the Dead prepared for a hiatus of undetermined length.
Garcia worked on the film for more than two years with film editor Susan Crutcher. Together they preserved not only the band's performance through its groundbreaking "wall of sound," but what it was really like to attend a Dead show when the act was in its ramshackle prime.
The first disc boasts a high definition transfer of the film, restoring the full frame that was edited for its VHS release. Fans can choose from three audio selections: a Dolby Digital 5.1 version of original theatrical mix, as well as Dolby Digital 5.1 and Dolby Digital 2.0 mix from the master multitrack tapes. There is also a feature-length commentary track with Crutcher and editor John Nutt.
The second disc includes unreleased performances of such Dead favorites as "Uncle John's Band," "Sugaree," "Dark Star" and "China Cat Sunflower (GT) I Know You Rider," among others. All of the footage was transferred from the original 16mm camera film negative and can be heard in either Dolby Digital 5.1 or 2.0 mixes.
Also included on the bonus disc are documentaries on the making of the DVD and the animated sequences in the film, plus a third titled "A Look Back" featuring new interviews with surviving band members. Additionally, a 1974 TV commercial for the Dead's "Mars Hotel" album is included, as is a gallery of photos, film stills and other items related to the project.
........................
OKIE DOKIE! I'm thoroughly excited to be getting my dvd! Can't wait to go to the release shindig on Tuesday!!!
Happy weekend everyone!
Las canciones del círculo y las arenas del tiempo y de las estaciones terminarán en rima caída y pequeña cambio, el viento y lluvia