Read an article about the Waybacks today they had some kind words for our guy:
One other band that heavily influenced Coyle and Nash, as well as the rest of the band is The Grateful Dead.
"We've had the privilege of playing with Bobby Weir on a few occasions," Coyle said of The Grateful Dead guitarist. "We played together at a show at the speedway in Golden Gate Park, where the Grateful Dead played a lot of shows. It was a huge honor."
But it isn't only The Grateful Dead's music that The Waybacks has drawn from. The band has also adopted The Dead's policy of encouraging audience members to record live shows.
"Our live shows are where the magic happens, and we want as many people as possible to experience that magic," Coyle said.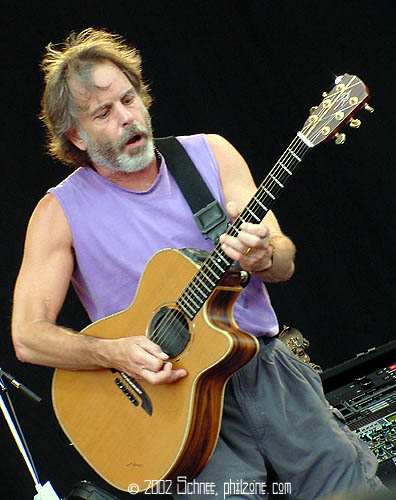 Hungry??? It's Pizza night hin a few minutes here.
If youre near Teaneck NJ, Drop by this restaurant- looks like our kind of place from the review:
"Eating Out: Mexicali Blues in Teaneck
Friday, November 19, 2004
By RENE ALLEN MACK
RESTAURANT REVIEWER
Eli Wells, the self-taught chef-owner of Mexicali Blues and his kick-ass guacamole are back after a 13-month hiatus.
Wells moved the joint from its digs on Cedar Lane, where it was a low-ceiling restaurant and bar with bands jammed in, to a space that is more nightclub with food near the railroad tracks on Queen Anne Road.
While curiosities such as the eight of diamonds and 10 of spades that were tacked to the ceiling didn't survive the move, the good menu; Joe, the memorable bartender; and Hillary, the best waitress in Bergen County, did.
Mexicali Blues keeps on trucking as one of the best Southwestern-Mexican restaurants in the area.
Granted, a first look at the place may seem intimidating because there is barely a legible sign to get you in there ("just look for the dusty-mirage - blueish-green building - on the corner"). Zigzag into the vestibule (no valet parking or hostess here) and come face-to-face with a black wall plastered with fliers for upcoming performances by bands such as Stir Fried, Pretty Suicide, Tim Renolds, the Screamin Cheetah Wheelies and, of course, the Zen Tricksters.
The foyer gives way to one enormous black room with a massive dance floor and a divider of electronic "stars" that frequently change color. Take two seconds to deduce that Mexicali Blues is a shrine to the Grateful Dead. Posters, paintings and art dedicated to the legendary band are at the heart of the décor.
The dining area can be found way in the back. It is comprised of just six booths under a balcony that holds another five booths. A few tables up top offer a shelter of sorts above the dance floor.
The first round of tortilla chips and salsa is on the house. The menu reads that the guac is made "at numerous points of the day to guarantee the delicate balance of flavors." This is a true thing. A caution is necessary: The main danger at Mexicali Blues is eating so many of the luscious fresh-baked chips, killer spicy salsa, and seductive rich and chunky guacamole ($7) that you have no room left for the actual meal. And that would be a shame.
The menu is simple. Nine appetizers and 12 entrees, plus or minus a few salads and soups. Nearly everything is terrific.
The piping hot chili corn crab cakes ($9) are outrageously crisp-fried, wallowing in a tide of smoked shrimp chili cream sauce. Served on a square black plate, the two moist yet firm cakes reveal shreds of succulent white meat and niblets of whole yellow corn. The cakes are not only hot to the touch, but pack intrinsic heat from fiery chipotle peppers. Dollops of sour cream soothed and cooled our palates.
More than two dozen (we gave up counting) steamed Prince Edward Island mussels ($10) in a verde sauce are piled high in an oversized violet bowl. These shiny black beauties are incredibly delicate, heartachingly tender and enlivened by a cilantro-pesto sauce.
Vegetarian diners will appreciate Mexicali Blues' Mexican spring roll ($8), a massive appetizer that fuses East and West with a little culinary inspiration. Wrapped in the crisp spinach tortillas are peppers, onions, carrots and zucchini that have been sautéed in ginger, garlic, sesame oil and a red curry sauce. Served warm, cut on a diagonal and standing upright, they are visually appealing as well as satisfying.
We had low expectations for the mixed baby green salad ($6) with house vinaigrette. No surprise when it failed to meet even those pedestrian ideals. It is safe to say that Mexicali Blues is not the place for salads.
What does succeed here is simplicity. Owner-chef Wells, a New Milford native and a bona fide Deadhead who has attended more than 250 Grateful Dead concerts, sticks to tried-and-true appetizers and entrees that work well for him and his patrons. "
....................
......................................................................................
Tons of Ratdog photos at this
website!
Allés sont les jours où les dames ont dit svp